Welcome to Perfect-ResGrape.Com
Perfect ResGrape is an all natural blend of Trans-Resveratrol and whole food Muscadine grapes. Perfect ResGrape only uses the purest and most potent natural Trans-Resveratrol available, with no less than 99% pure Trans-Resveratrol. In addition to Resveratrol, Perfect ResGrape provides all the health benefits of whole food Muscadine Grapes, known to have one of the highest antioxidant levels available.

Perfect ResGrape - the perfect blend of pure
Trans-Resveratrol & Muscadine grapes.
Now you can get the benefits of red wine - promote longevity and feel healthier - without the alcohol, calories or preservatives. Perfect ResGrape may be the answer to becoming the healthiest YOU that you can be!
Perfect Supplements believes you deserve to know exactly what is inside your dietary supplements. You will not find any "proprietary blends" here, just the facts. We only use 99% pure trans-resveratrol along with whole food Muscadine grape, in which the skin, pulp and seed are dried and then ground into a powder. The powder is then contained in a vegetable capsule.
Many other companies do not provide the health benefits of the whole grape and use a cheap, low quality Resveratrol that has a purity of less than 50%. One of the impurities often found in low quality resveratrol is Emodin, which is used as a laxative and may cause stomach cramps.
Perfect Supplements do NOT have FILLERS or FLOW AGENTS. You will NOT see things like magnesium stearate, silica or rice in our products. Get what you pay for...99% trans-resveratrol and whole food Muscadine Grapes.
Each serving of 1200mg includes:
200 mg of 99% Pure Trans-Resveratrol
1000 mg of Whole-Food Muscadine Grapes

Click on Label for Full size image
Each serving of 1150mg includes:
400 mg of 99% Pure Trans-Resveratrol
750 mg of Whole-Food Muscadine Grapes

Click on Label for Full size image
*These statements have not been evaluated by the Food and Drug Administration. This product is not intended to diagnose, treat, cure, or prevent any disease.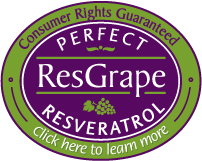 What is Resveratrol?
Resveratrol is a polyphenolic compound that is believed to be responsible for many of the health benefits associated with red wine. It is found naturally in grapes, red wine, peanuts, blueberries, bilberries, cranberries, and other plants to help protect them from bacteria and fungi. Resveratrol occurs in two forms, cis and trans resveratrol, the "trans" isomer is the beneficial substance that is biologically active.
Click Here to learn more...
What is Muscadine?
Muscadine grapes are one of the richest sources of antioxidants found in nature, with an antioxidant level 40 times higher than any other grape. Studies show that the main antioxidants, ellagic acid and resveratrol, may play a key role in preventing cancer, heart disease and high cholesterol.*
Click Here to learn more...